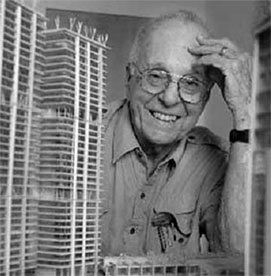 Nicolás Quintana was a dynamic figure in the history of Cuban architecture who played an important role in establishing the Modern Movement in Cuba, not as an imported idea but as a search for identity that was both Cuban and universal. This attitude echoed a larger discourse that took place in Cuba in the mid twentieth century and transformed its culture: in painting, sculpture, classical and popular music, literature, film, theater, and dance. As a young architect Quintana actively engaged in this dialogue.
He studied at the University of Havana in the late 1940s where he and fellow students Ricardo Porro and Frank Martinez helped change the curriculum to embrace Modernism.   During this period, Richard Neutra, Walter Gropius, Jose Luis Sert and other Modernist architects visited Cuba.  Quintana befriended Gropius and Sert in particular.  He also came to know during this period the Cuban ethnologist and critic, his mentor Fernando Ortiz.  Quintana's search to develop an architecture that was at once distinct to Cuba and also universal is reflected in his practice.  He represented Cuba at the International Congress of Modern Architecture in Aix-en-Provence (1953) and in Dubrovnik (1956) where he also participated in Team X.  His interest in urban design led to his master plans for Varadero and Trinidad. He was forced into exile after the Revolution. Over the next two decades he continued his practice in Venezuela and in Puerto Rico. He settled in Miami in the 1980s and devoted his life to teaching architecture at Florida International University.
With his facility for engaging others, he co-launched in 2006 an interdisciplinary study of Havana with landscape architect Juan Antonio Bueno, called "Havana and its Landscapes". In collaboration with architects, engineers, urban planners, and dozens of FIU students, they examined the present urban conditions of Havana and explored its potential. Committed to the idea that cities are living forms that are made and remade to serve the current social conditions, the study established a context for conversation about cities in Cuba, an opportunity for understanding the past and the present as vehicle for moving forward with new ideas. His story and that of his generation, whose architectural legacy is threatened with neglect, destruction and oblivion, is nevertheless an optimistic one that the film seeks to convey. It is about finding oneself as an individual and as a society through reinvention and renewal.